From coal burned to traffic jams, signs are emerging that an industry-led rebound is underway. Credit is expanding, smartphone and auto sales are up. However, it will take time to get the economy to create enough jobs to absorb the consequences of COVID-19 on China's labor market.
China is also making headways in the drive to acquiring its technological independence and self-reliance following the US-China Trade War.
Chinese Credit Growth robust in April
China's credit provision in April was stronger than the same period in recent years, signaling the central bank's credit easing policy is helping revive domestic demand.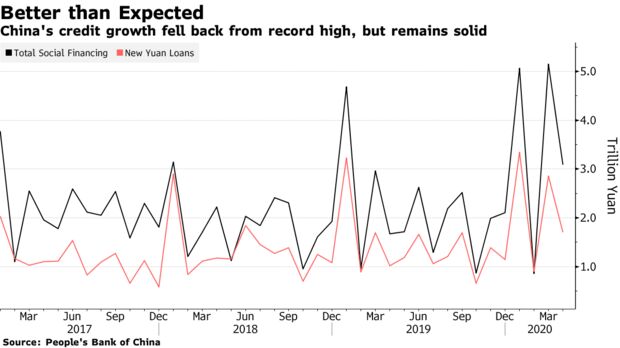 Aggregate financing increased by 3.09 trillion yuan ($436 billion) last month, compared to a median estimate of 2.78 trillion yuan. That was less than the record expansion of 5.15 trillion in the previous month but higher than previous readings in April in comparable data back to 2017
Financial institutions offered 1.7 trillion yuan of new yuan loans in the month, versus a projected 1.3 trillion yuan
The growth of outstanding aggregate financing picked up to 12% in April, compared with 11.5% growth in the previous month
Broad M2 money supply grew 11.1% from a year earlier, the fastest pace since late 2016 when the deleveraging campaign intensified.
Credit growth has stayed robust thanks in part to easing policy from the People's Bank of China, even amid sluggish domestic demand and the collapsing global economy. The PBOC has lowered the cost of its funding to banks, pledged liquidity to virus-hit sectors, and lowered requirements on banks' buffers to allow them to lend more.
The strong credit impulse is geared to save businesses from immediate collapse, but may not be enough to help the world's second-biggest economy make a rapid rebound. Economists have flagged the risk of technical recession this quarter, and data due later this week will give investors a first read on how the global economy has affected China.
China is turning on the liquidity spigots and credit is flowing freely again, spurred by a heavy dose of liquidity injections by the central bank. Monetary officials have started to lift the brakes, worried more about downsides to growth and employment than frothy asset markets.
China's stronger-than-expected April credit reflects both the impact of monetary policy support and a continued recovery in the economy.
China's gradual and targeted stimulus seems to work and consumers seem to be less worried about COVID-19 than in the West, probably due to the citizen monitoring system which makes them feel better protected according to surveys.
130 Million Chinese were out of work in April
As China heads toward its annual political centerpiece next week, the true state of the labor market is obscured by incomplete official data.
The surveyed urban unemployment rate, due for release Friday along with April industrial production and retail sales data, leaves out about half of the nation's workforce.
Though the official rate is forecast to decline to 5.8% for April, analysts from BNP Paribas SA said the real unemployment rate including non-urban residents could have reached 12% in the first quarter, and as many as 130 million people could have suffered some kind of job disruption.
The outlook for the labor market is "not optimistic" as the recovery in some sectors will have to wait until a global reopening, and the official jobless data leaves a considerable part of the workforce off the radar. The current recovery is largely policy-driven. The repair pulled by the economy's inner strength has not really started yet.
UBS Group AG is forecasting the worst job market for China in more than two decades, with the number of jobs shrinking by more than 10 million this year. That's in contrast to the usual government target to create a net increase of at least 10 million jobs a year.
It is likely that the 22 – 27 meeting of the CCCP Annual meeting decisions will be first and foremost geared towards the labor market.
The People's Bank of China already pledged to roll out "more powerful" monetary stimulus, and fiscal authorities are expected to issue a record amount of special-purpose bonds.
The latter is expected to help drive infrastructure investment with US$ 600 Billion earmarked for new projects. Data for fixed-asset investment in the first four months of the year is due today.
Coal consumption increases year-on-year
An indicator of China's coal demand surged almost a third above levels last year as hotter-than-usual weather and factories rushing to make up for lost orders boosted power demand, spurring a rebound in prices.
Coal use by coastal power plants at five major utilities rose for an eighth day to 577,100 tons as of Monday, more than 30% higher than the same period last year and the most since Jan. 12, data from China Coal Transport & Distribution Association showed. The figure eased slightly to 562,300 tons Tuesday.
China is recovering from the slump in February, when much of the domestic economy was shut to curb the spread of the coronavirus. Factories and companies are now back to work, but restrictions to contain the outbreak in other countries have weighed on export orders and disrupted supply chains. Meanwhile, more than 100 meteorological observatory stations across the nation tested record high temperatures in early May.
The nation's electricity output shrank 4.6% in March, narrowing the record 8.2% slump in the first two months. The China Electricity Council expects power consumption to grow as much as 3% this year.
Smartphone sales up +17.2% YOY in April
Smartphone shipments in China rose by 17.2 percent in April on a yearly basis, the first such expansion in the past four months, indicating a strong rebound in consumers' enthusiasm for electronic products.
Data from government think tank China Academy of Information and Communications Technology showed that 40.8 million smartphones were shipped from factories to retailers in April, with 32 new models being launched.
Shipments of 5G smartphones stood at 16.38 million units, a 164-percent growth on a monthly basis, and accounted for 39.3 percent of the total shipments, the report said.
The strong performance came as strong consumer demand for cutting-edge devices prompted retailers to shore up stocks.
Fang Jing, chief electronics analyst at Cinda Securities, said most of the factories in China were impacted by the COVID-19 pandemic during the first quarter of this year. As they started to scale up production capacity, retailers started booking more smartphones in anticipation of the resurgence in consumer demand, he said.
With the outbreak still rampant in many overseas countries, Chinese smartphone firms like Huawei, Xiaomi, Oppo and Vivo are now focusing more on the domestic market, thereby intensifying competition.
In April, 22 new 5G smartphone models were launched in China, according to CAICT.
Data from Fenqile, China's first installment-payment e-commerce platform under Nasdaq-listed LexinFintech, also indicate a demand revival.
In April, sales of iPhones increased 20 percent on a month to month basis on the platform, which serves mostly Generation Z consumers (those born in the past 25 years).
"The short-term effect from the pandemic won't change the long-term consumption momentum of young Chinese consumers, who are the dominant force of China's consumer market, and are known for their fondness of trendy products such as new smartphones," a Fenqile spokesperson said.
"We expect smartphone sales to rise in the subsequent months and the rest of the year, especially with the potential rollout of multiple 5G smartphones from renowned brands," the spokesperson said.
In a 5G smartphone promotion on Fenqile on April 17, the daily sales of 5G smartphones increased by 184 percent compared with single-day sales in the past. On the promotion day, total smartphone sales on the platform rose by 335 percent driven largely by the rising popularity of 5G smartphones.
A recent online survey conducted by Fenqile also found that 5G smartphones and Apple products are among the most popular in the past few months among young Chinese consumers.
China Auto Sales in V-Shaped recovery
A recovery in car sales is set to continue in China as government policies aimed at reviving demand following the coronavirus outbreak are gaining traction, an industry group predicted.
A recent quick rebound in demand suggests a V-shaped recovery has been established, China Passenger Car Association said in a statement on Monday. Yet some declines may still occur in the months ahead, the trade body said.
Car retail sales fell at a slower pace of 5.5% in April, following a 40% drop in March and a 79% plunge in February, PCA said. PCA's report was echoed by the China Association of Automobile Manufacturers, which showed the first monthly increase since June 2018 for China's vehicle industry as a whole, helped by heavy-duty trucks.
Optimism is growing that the world's largest auto market is rebounding after China largely controlled the coronavirus pandemic that shut down much of its economy. Sales have dropped for two years, and the virus worsened a slump kicked off by a slowing economy, trade tensions, and stricter emission regulations.
China's air traffic recovering to 75 % of capacity
World Airlines added more seats to their flight schedules this week, led by carriers in China and Hong Kong, suggesting the industry is starting to recover from the devastating impact of the coronavirus pandemic, according to OAG Aviation Worldwide.
Carriers globally added a net 600,000 seats to reach a total of almost 30 million, up about 2% from the previous week, OAG senior analyst John Grant wrote in a report. That's still a long way off the weekly capacity of about 110 million seats this time last year, but it is an encouraging sign nonetheless.
China, the first place hit by the virus, added 1 million seats to schedules this week, including 800,000 on domestic routes, and is now operating twice as many seats as the U.S. as its economy reopens. Meanwhile, Hong Kong's Cathay Pacific Airways Ltd. added 40,000 seats and increased frequency by some 120 flights, Grant said.
"China's domestic capacity stands at 75% of January's level, the United States at 27% and Russia at 49% of pre-Covid-19 levels," he said. "the U.K. level is only some 4%."
China's De-globalization
The US-China Trade War of 2018 and 2019 will leave lasting scars in globalisation and it main consequence is a clear shift of China towards local products and locally mastered technologies.
Huawei's Hisilicon chip unit overtook US semiconductor giant Qualcomm to be the biggest mobile phone chip supplier in China for the first time in history.
In the first quarter, the market share of Kirin, a mobile phone chip developed by Huawei's chipset subsidiary HiSilicon, stood at 43.9 percent on the Chinese mainland, according to a semiconductor report from research and consulting company CINNO.
Qualcomm ranked second with a market share of 32.8 percent, dropping from 48.1 percent in the same period last year, while Media Tek and Apple followed with 13.1 percent and 8.5 percent, respectively.
As the COVID-19 epidemic took a massive toll on China's mobile phone sales, the country's phone processor shipments plunged 44.5 percent year-on-year in the first three months, the report said.
However, Huawei further expanded its smartphone market rate to 36.9 percent this quarter from 28.7 percent in the same period of 2019, with other Android phone brands seeing their numbers dwindling, according to the data analysis firm Aurora Mobile.
China's mobile phone shipments fell 36.4 percent year-on-year to 48.95 million units during the first three months, according to the China Academy of Information and Communications Technology.
Local chipmakers take over from US and Taiwanese chipmakers
Chinese mainland chipmaker Semiconductor Manufacturing International Corp has successfully mass-produced a smartphone processor for Huawei Technologies Co, marking a breakthrough in the mainland's push to boost its chipmaking industry, experts said.
Huawei's chipset, the Kirin 710A, was produced through an advanced, 14-nanometer manufacturing process by the Shanghai-based chipmaker, marking the first time that a Chinese mainland semiconductor company has commercialized that technology to mass-produce smartphone processors. The process produces more efficient chips.
The move also confirms that Huawei is shifting partial production of its self-designed chips to SMIC, away from Taiwan Semiconductor Manufacturing Co, amid worries about tightened restrictions from the United States government.
Xiang Ligang, director-general of the Information Consumption Alliance, a telecom industry association, said that now, the Kirin 710A chip's design, manufacturing, testing and packaging are all done by Chinese mainland companies, which is a breakthrough for the industry.
The comments came after employees of SMIC Shanghai received Huawei smartphones last week with "Powered by SMIC" printed on the back.
"The line showcased SMIC's commercialization of its 14-nm technologies to make smartphone processors. It is a step from zero to one," Xiang said.
Chip manufacturing is a crucial part of the semiconductor industry chain.
As the US government plans new control measures of semiconductor exports to Huawei, the Chinese tech company risks losing access to Taiwan Semiconductor Manufacturing Co for production of its self-designed chips. "In such a context, SMIC's progress in 14 nm is very important," the securities company said.
SMIC said earlier that it would expand its production capacity in 14 nm manufacturing to 15,000 wafers per month by the end of 2020.
The company said in its first-quarter financial report on Wednesday that its revenue in the three months was $905 million, up 35 percent year-on-year, and marking a record high.
Huawei is also beefing up its own chip research and development capabilities. HiSilicon, Huawei's semiconductor arm, became the first Chinese mainland company to enter the Top 10 global chip rankings, taking the 10th position in the first quarter of 2020, according to market research company IC Insights.
Such progress came as Washington is toughening export controls of semiconductor technologies to China. According to a new rule released by the US Department of Commerce in late April, licenses will be needed for US companies to sell certain items, including semiconductors, to Chinese companies that Washington thinks have ties to the military, even if the products are meant for civilian use. The rule will take effect on June 29.
US semiconductor equipment makers Lam Research and Applied Materials have sent letters to their Chinese clients, asking them not to use their products to make chips for the military or military-civilian initiatives, Chinese media reported on Tuesday night.
Bai Ming, a senior research fellow at the Chinese Academy of International Trade and Economic Cooperation, said, "The new restrictions will harm the US semiconductor industry."
Lam Research said in a recent filing, "Our international sales could be materially and adversely affected by export license requirements and other regulatory changes." China represented 29 percent of its overall revenue for the nine months ended March 29, Lam Research said.
"There is no assurance that we will be issued licenses that we may apply for on a timely basis or at all, which could limit our ability to operate and adversely impact our revenues in China," Lam Research added.
China should lead a U-shaped Asian recovery in 2021
China will lead a gradual U-shaped regional economic recovery, which will help anchor production and confidence in neighboring countries aided by the adoption of a wide range of stimulus packages to contain the novel coronavirus epidemic, the head of a leading international research organization told China Daily in an exclusive interview on Wednesday.
All economies in the ASEAN+3 region, the Association of Southeast Asian Nations (ASEAN) plus China, Japan, and South Korea, could return to positive growth in 2021, and the region as a whole is expected to expand by 6.2 percent next year, led by China, said Toshinori Doi, director of the ASEAN+3 Macroeconomic Research Office (AMRO), which monitors macroeconomic and financial stability in the region.
"China can play an important role to lead and support the region's economic recovery by resuming connectivity in trade and investment with regional economies and regaining regional demand," said Doi. "But this trajectory depends largely on how effectively the regional and global economies can contain the virus."
AMRO expects the region's economy to slow sharply to 0.2 percent this year. It has already shaved 3 percentage points off the growth forecast compared to a month ago.
As the COVID-19 outbreak has been nearly brought under control in China, more than half of the companies, particularly the export-oriented ones, have achieved around 80 percent of production utilization, said AMRO.
China's resumption of production will help anchor regional production and confidence, the director said. The region's electronics and semiconductor industries-spurred by 5G and artificial intelligence development, petroleum and chemicals from energy consumption-and textile and garment sectors will benefit from the resumption of manufacturing in China.
Besides, China's plan to increase infrastructure spending will also benefit commodity exporters in the region, Doi said. "We expect China to carry out large infrastructure investment, such as transportation in the upcoming stimulus package. The country's demand for mining products will benefit mining exporters in the ASEAN, such as Indonesia, Malaysia, Laos, Myanmar, and Vietnam."
On the shocks, the AMRO director said the pandemic has disrupted the ASEAN+3 supply chain and affected derived demand within the region.
In the post-pandemic period, efforts are likely to be focused on improving the robustness of the regional supply chain by diversifying the production of key intermediate and final products to more countries, to mitigate the risk of such disruptions.